The latest Butchery & Sausage Making course at a Yorkshire Cookery School went well, I really enjoyed the day and we got some great positive feedback from all attending.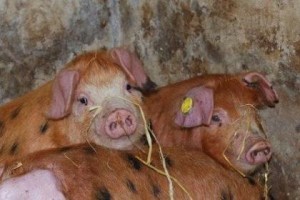 Oxford Sandy & Black Pigs
After talking about Pigs & Farming in general over coffee and croissants a whole discussion evolved around rare breeds and outdoor reared British Pork.   Once I dismounted my "high horse" we started the course by looking at the anatomy of a side of pork followed by some knife skills including the different methods of using a steel and keeping those knifes sharp.
Once we had removed the shoulder and boned out, it was onto the sausage making part of the day, everyone diced and minced there shoulder and prepared to invent their very own unique sausage recipe.
The vast selection of ingredients to choose from included 6 different styles of beer, a mixture of freshly prepared breadcrumbs, spices including cumin, ground white pepper, black pepper, cayenne & paprika, herbs from coriander, parsley, chive & sage and different sugars and honey.  Finely chopped leeks or shallots and a selection of fruit from apple, cranberries, dried apricot and even Yorkshire Rhubarb to name a few.
Finally everyone had a go at filling sausages using traditional casings (sausage skins) and a lesson in sausage linking with some fantastic results.
Some of the sausage creations on the day :-
Meantime Pilsner, sage & onion
Meantime Pilsner, Henderson Relish, onion & chive
Beer, leek, cranberry & coriander
Leek & apricot
Herby Pils, onion, leek, sage & thyme
Yorkshire pork & rhubarb
and a few more weird & wonderful concoctions
Lunch was of course some Malhamdale Pork Sausages and mash with a gorgeous gravy, all expertly prepared by resident chef's Simon & Russ.  If your interested in this Butchery & Sausage Making course the next one will be in early 2012.