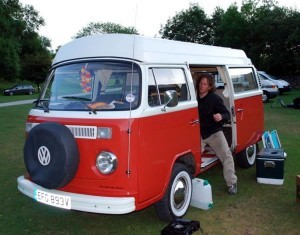 Yorkshire Chorizo featured on TV in the BBC2 series One Man & his Campervan, Martin Dorey travels the length and breadth of the UK seeking out the best campsite locations for his VW Campervan and the best local food to cook on his campervans 2 gas rings!  Martin is the author of The Campervan Cookbook.
Whilst in the Yorkshire Dales Martin stops off and camps at Gordale Scar, Malham and cooks up a simple meal including Yorkshire Chorizo and some very special local eggs!  We enjoy a beer, the location and the food and talk about local food & the Yorkshire Dales landscape.  The campervan even get's a name! Gordie…
The series starts on Monday the 7th of February 2011 on BBC2 at 6.30pm and continues every week night in a 10 part series, the Malham episode will air on Thursday the 10th of February at 6.30pm.
One Man and his Campervan Rhea Egg & Yorkshire Chorizo Frittata or "Gran Huevo con Chorizo"
Ingredients:-
1 x Rhea Egg or about 10 medium hens eggs
1 x Yorkshire Chorizo
chopped red onion
glug of Yorkshire rapeseed oil
herbs, e.g. fresh thyme
green salad e.g. rocket
grated Parmesan cheese
seasoning to taste
Method:-
find a great campsite, set up van, tables, chairs & place beers in the beck to chill
chop the onion and set aside
slice/chop the Yorkshire Chorizo
warm a frying pan and a good glug of Yorkshire rapeseed oil, add the chorizo and onion and gently fry releasing the smoked paprika & oils into the rapeseed oil, its better to use a little too much oil so you can save some for a salad dressing, pour of excess oil into a jam jar to save for a salad dressing
mix the egg, Parmesan, herbs & seasoning and pour into the pan with the chorizo
if you have a grill swap to the grill to complete cooking otherwise carefully turnover the frittata & cook other side
Serve with a Parmesan & Rocket salad drizzled with chorizo oil and a cold beer from the stream…
You can follow Chris on twitter here @cwildman and Martin here @campervanliving
For more info see The Yorkshire Dales Food Blog or Paganum Produce