A really tasty recipe from Rob Green of Greens' of Whitby, Seafood Chef of the Year.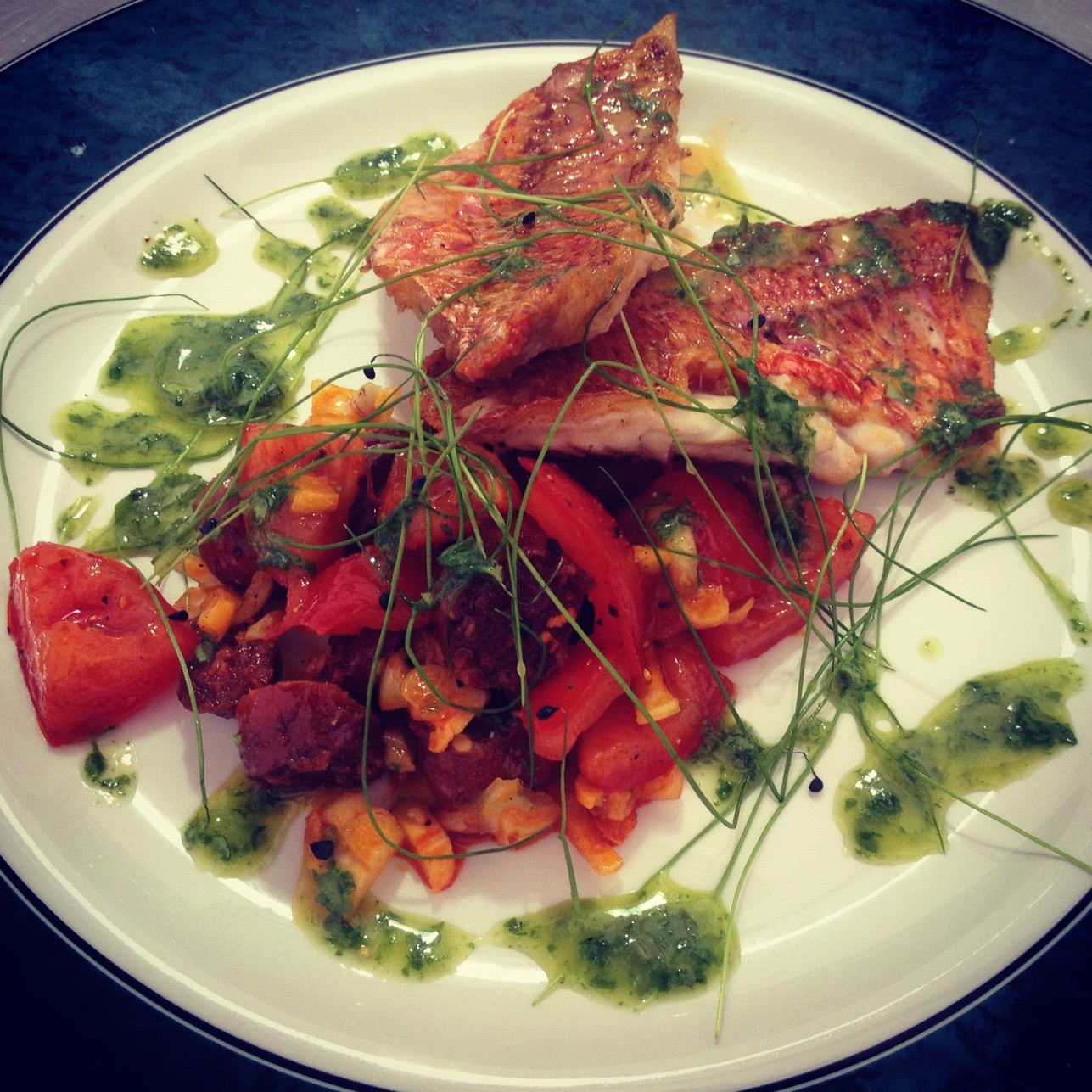 Serves 2
Ingredients:-
4 x Fillets of red mullet, scaled and pin boned
10 Chunky slices of Yorkshire chorizo sausage
2 x Shallots, peeled and sliced
2 x Large vine tomatoes, chopped into chunks
1 x Tablespoon balsamic vinegar
2 x cloves of garlic, peeled and sliced finely
100ml Virgin olive oil
Lemon juice
Handful of fresh basil leaves
Salt and pepper
Method:-
Cook the chorizo in a frying pan over a medium heat with a little of the oil until it browns and the oil turns a lovely red colour. (this is the fat rendering down from the sausage. The red colour is the paprika from the chorizo)
Add the garlic and cook for a further 30 seconds add balsamic vinegar and take from the heat.
Toss the tomatoes, shallots, Yorkshire chorizo and garlic and a tablespoon of the red oil / balsamic mixture left in the pan.
Put the rest of the virgin oil, basil,salt and pepper and a good squeeze of lemon juice into a bowl. Blend with a hand blender until the basil colours the oil.
Fry the mullet fillets, skin side down in a non stick pan for 2 mins over a medium heat. Flip over and cook for a further 30 seconds and remove from heat.
Drain the fish fillets on kitchen towel and set aside.
Place a nice pile of the dressed salad at the top of your plate and place the mullet fillets just below, fanned out. Drizzle some of the basil oil over and dress with a few baby leaves.
Recipe by Rob Green, Green's of Whitby